Wall Bracket for Air Conditioner Outdoor Unit
Model NO.:

F017C

Material:

Stainless Steel

Structure:

Triangle Bracket

Adjusted:

With Adjusted

Customized:

Customized

Size:

Common

Cooling Method:

Indirect Cooling

Free Samples:

Yes

Quality:

Good

Trademark:

SANHENG

Origin:

China
Usage:

Projector Bracket, Shelf Bracket, Wall Bracket, Air Conditioner Bracket

Style:

New Classical

Manufacturing Arts:

Metal

Folded:

Folded

Color:

Colorful

Quality Standar:

Good

Price:

Cheap

Freight:

Customer Bear

MOQ:

50

Specification:

CE, CQC, RoHS, ISO,
Product Name:
Air-conditioning Bracket
Picture: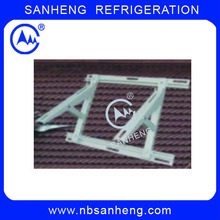 Models:
Bolts
Clasp
Welding
Floor
Roof
Our Aim
Customer forever , quality forever, service forever 
About our company:
Ningbo sanheng refrigeration control Co.,Ltd 
We are professional manufacturer and  export company , the main product is refrigeration parts;
Air conditioner spare parts and freezer parts .
In the company's decades of development, we have a professional refrigeration technical team with wealth of precitcal experience , self-developed special-purpose welding lines and unique testing equipment and command of advanced injection technologies meanwhile we focuse on imporoving the quality and stability of product a variety of products obtain CCC, CQC CE certification, some products have passed RoHS testing.
1. The elevator is equipped with landing doors, car running direction indicators, math display car, running position indicator and elevator call button at each service landing. When using the elevator call button, press the up arrow button when you go upstairs, and press the arrow button when you go upstairs.
2. When the car arrives, the floor direction indicator shows the direction of movement of the car. Passengers judge the direction they want to go and enter the car after confirming that the elevator is normal. Pay attention to the closing of the door leaf and do not stay at the docking place between the landing door and the car door.
3. There are position indicator, control panel, door open/close button and floor selection button in the car. After entering the car, press the floor selection button of the floor you want to go to. If you want the car door to close immediately, you can lift the door close button. The car floor position indicator shows that it has arrived at the floor and can leave after the car door is opened.
4. The elevator cannot be overloaded. Please exit when the personnel are overloaded.
5. Passenger elevators cannot often be used as freight elevators, and no flammable and explosive products are allowed to be transported.

Push Button,Push Button On Off Switch,Push Button Switch,Emergency Stop Button
Suzhou Keffran Parts Co.,ltd , https://www.keffran-elevatorsmart.com